In order to change the language of the voice prompts on a Sena Bluetooth headset you will need to download the firmware for that specific language for your Sena Bluetooth headset.
1. Please visit www.sena.com and locate the web page for your headset.

2. On the page for your product, click on the DOWNLOADS link at the bottom of the page.

3. Scroll the "See Firmware History" section on the Downloads page.

4. Click on a firmware version number and click on the SELECT A LANGUAGE drop down menu and select the language that you would like to change the voice prompts to. Then, click the DOWNLOAD button to save the firmware file to your computer.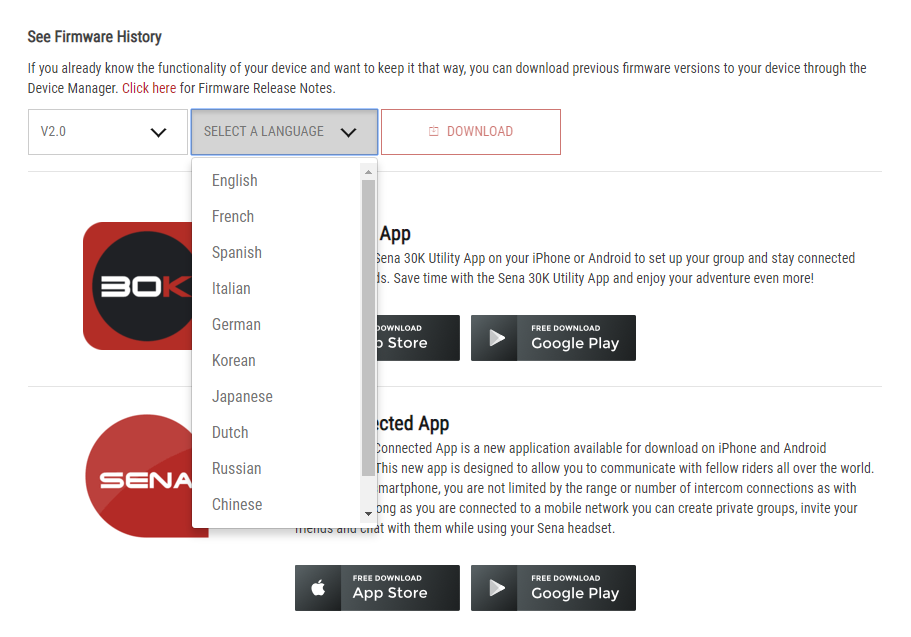 5. Start the Sena Device Manager, which can be downloaded from here https://www.sena.com/support/software. After your Sena Bluetooth headset has been recognized by the Sena Device Manager you will be in the Firmware Update section of the program.
6. Next, click on the button labeled Browse…
7. Now, locate the firmware file that you selected and downloaded it to your computer and click on the button at the bottom labeled Update. The headset will begin installing the firmware with the voice prompts in an indicated language. Once done, the voice prompts will now be in the foreign language of your choosing.