You can remotely control the Bluetooth system using Sena Remote Control devices (sold separately) such as a Handlebar Remote or a Wristband Remote. This eliminates the need to remove your hands from the handlebars for button operations.
Pairing with the Remote Control
1. Turn on the Bluetooth system and the Remote Control device.
2. Execute Remote Control Pairing in the Bluetooth System Configuration Menu.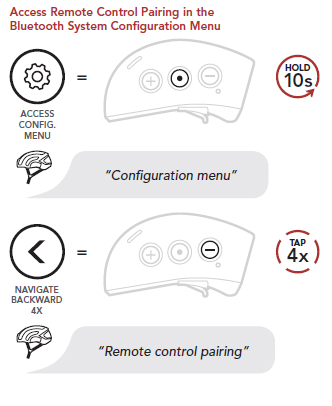 3. Enter pairing mode in the Remote Control device. The Bluetooth system will automatically connect with the Remote Control device in pairing mode. You will hear a voice prompt, "Remote control connected," when they are successfully paired.