Below is a table of approximate video recording times to microSD card size in specific resolutions and frame rates.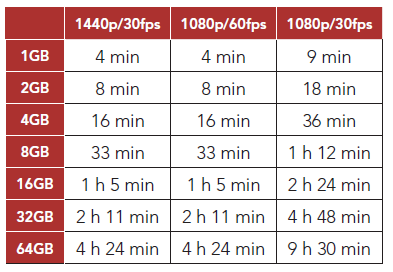 Note:
MicroSD cards up to 64GB are compatible. Using a Class 10 microSD card is suggested.

You cannot record videos without a microSD card.

Your microSD card needs to be formatted using the camera system before using the camera.

The camera system gives a warning and automatically stops recording when the microSD card is full or the battery becomes low. Your video will be saved before the camera system powers off.

If the camera system becomes too hot, it gives a high temperature warning. Cool down the camera system before further use.

The maximum size per video is limited to 4GB. Therefore, when the video reaches the 4GB size limit during recording, it saves and creates a new video to continue recording

.