Camera Configuration Setting
1. To enter into camera configuration menu, press and hold the Camera Button for 5 seconds until you hear a voice prompt, "Camera setup".
2. Rotate the Jog Dial clockwise or counter clockwise to navigate between the menus. You will hear voice prompts for each menu item as below.
3. You can enable or disable a feature, or execute a command by tapping the Phone Button.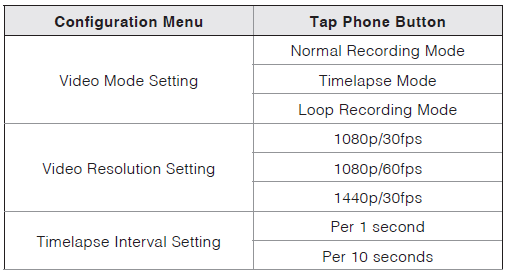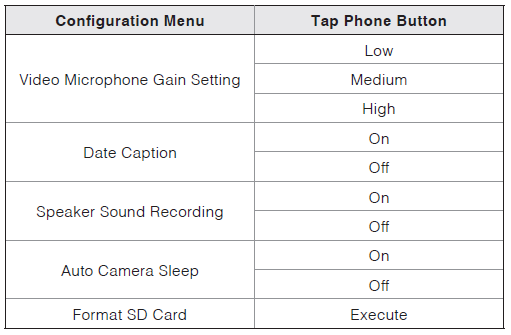 Video Mode (Default: Normal Recording Mode)
You can select the video mode to be normal recording mode, timelapse mode, or loop recording mode. Timelapse mode records series of photos at timed intervals and makes it into a video. Loop recording mode constantly records videos at timed intervals, replacing old video files when memory is full.
Video Resolution (Default: 1080p/30fps)
You can select the video resolution to be 1440p/30fps, 1080p/60fps, or 1080p/30fps.
Timelapse Interval (Default: 1 sec)
You can select the timelapse interval to be either 1 second or 10 seconds.
Video Microphone Gain (Default: Medium)
You can select the microphone gain for video recording to be low, medium, or high.
Date Caption (Default: Off)
You can record or hide date caption during video recording. If you select on, the date caption will be displayed on top of your recorded video. If you select off, the date caption will not be shown on your recorded video.
Smart Audio Mix™ (Default: On)
Smart Audio Mix allows you to record everything you hear through your speakers as well as your voice during video recording. The function that governs Smart Audio Mix is called Speaker Sound
Recording. Turn on the Speaker Sound Recording setting if you want to record music and intercom conversations on your video. Turn off this setting if you want to record your voice only.
Auto Camera Sleep (Default: On)
You can set the camera to automatically power off after 5 minutes of inactivity. This feature does not work while charging the camera.
Format SD Card
SD card format will remove all files from a microSD card. When you use a new card for the first time, always format it before using the camera.