Audio Multitasking (Default: Disable)
Audio Multitasking allows you to hear the audio from two features simultaneously. When Audio Multitasking is enabled, phone calls, GPS instructions and intercom conversations can be overlaid with audio from the FM radio, music or GPS app instructions from a smartphone in the background with reduced volume. Increasing or decreasing the volume of the audio in the foreground will also increase or decrease the volume of the overlaid audio in the background. The volume of the foreground audio can be adjusted using the headset. How much background audio that is heard can be adjusted using the Sena Smartphone App. HD Intercom, HD Voice and Audio Source Priority become disabled temporarily when Audio Multitasking is enabled.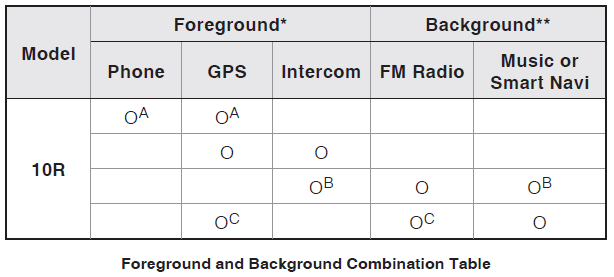 * Two audio sources in the foreground can be heard simultaneously with the same volume level.
** Only one background source can be heard at a time while listening to an audio source in the foreground.
A. GPS instructions can be heard during phone calls and the volume level of both audio sources can be adjusted using the headset.
B. GPS app directions will be heard in the background during intercom conversations.
C. The FM radio will be heard in the background when GPS instructions are heard.
Note:
1. Audio Multitasking will be activated during two-way intercom conversations with a headset that also supports this feature.
2. When Audio Multitasking is disabled, the background audio source will return to its independent volume level.
3. Audio Multitasking has limited usage for iOS devices.
4. For Audio Multitasking to work properly, you need to power the headset off and on. Please restart the headset.
5. Some GPS devices may not support this feature.
Background Volume (Default: Level 5)
The Background Volume can be adjustable only when the Audio Multitasking turns on. Level 9 is the highest volume and 0 is the lowest.